Here's for what you need to know before your iced coffee gets warm, the July 24, 2017 edition of the tipsheet.
What DC's Talking About: Kushner and Russia Sanctions
White House Innovations Director, and Presidential Son-in-Law Jared Kushner will testify behind closed-doors today about his meetings with Russians in the lead up to the 2016 Presidential Election. Democrats (and left-leaning media outlets) contend that there was some collusion between Mr. Kushner and other members of then-candidate Trump's inner circle with the Russian government to undermine the electoral process (there's no evidence of that).
Mr. Kushner will Testify that he had four meetings with Russians, but that there was no collusion in these "insignificant" meetings.
Later in the Week, President Trump's former Campaign Manager Paul Manafort and Donald Trump, Jr. will appear before the same Senate Committee. Though behind closed doors, this appearance will be closely scrutinized because of an alleged meeting between Trump Jr., Manafort, Kushner, and several Russian individuals last year.
A Witch Hunt, reminiscent of a Red Scare, is now underway in DC with Democrats (who hate Trump) and neo-conservative Republicans (who hate Russia because their foreign policy worldview was shaped during the Cold War) united in their aggressive prosecution of allegations of Russian interference in last year's election.  Of course, Russia is a country of 144.3 million people spanning 11 time zones, but, the idea that anyone meeting with someone who is ethnically or culturally Russian is now taboo in Washington.
The Backdrop of the testimony this week is Special Counsel Robert Mueller's ongoing investigation of Russian interference in the election. This investigation has, allegedly, ballooned well-beyond its initial scope into a probe of Mr. Trump's business transactions and contacts. There is still no indication of any foul-play or illegal activity, despite insinuation from left-wing media headlines.
A Sanctions Bill that would prevent the President from modifying or reducing sanctions against Russia achieved bipartisan support in Congress and will soonmake it to the President's desk. The fact that Congress could override a veto leaves the President in a difficult position. Congress is, effectively, forcing a hawkish stance with regard to Russia and the need, from a diplomatic standpoint, to decrease tensions. Any veto by the President, of course, would drive the media into a frenzy with alleged softness towards Moscow. News is that the President will, likely, support the bill.
What the Markets are Watching: Healthcare and the Budget
Republican Dysfunction threatens to undermine President Trump's initiatives and set back his entire legislative agenda. We've talked about this before and the fact that 52 Republican Senators (51 given John McCain's indefinite hiatus as he battles brain cancer) just isn't enough to get the job done.
Markets have been up since the President took office, but now most of the optimism from having a business-minded executive is baked-in. The problem? Missteps on healthcare and other marquee items run the risk of massive reversals in economic progress.
The Calendar is not on the Side of Congressional Republicans who face around 20 working days before they have a drop-dead date on passing a budget: October 1. While it's being predicted that Congress will have a budget ready in time to prevent a shutdown, it's still unclear if Speaker of the House Paul Ryan will be able to pass the budget with Republican votes or whether he will need Democrats because of Republican defections.
Healthcare Reform is still being kicked around in the Senate with Majority Leader Mitch McConnell preparing his members for, at least, a Motion to Proceed this week on an Obamacare fix bill. While the current draft does not have the votes to pass, it's looking likely that sweeteners, added in the amendment process, will be injected into the bill to get wavering senators across the finish line.
This is the Last, Last Stand for McConnell on reforming Obamacare (it seems). If he can't cajole his Party to support some type of reform legislation now, there's a strong chance that the Senate will have to move on to other big items on the legislative calendar. There's a chance that the next phase of the reform of Obamacare will be negotiations with Democrats, but this would take months.
Scaramucci a Welcome New Face at the White House
There was a Shakeup in White House staff on Friday. Anthony Scaramucci, a New York financier and former Trump opponent-turned-booster, was appointed to the vacant Communications Director position in the West Wing. Simultaneously, Press Secretary Sean Spicer resigned. The coincidence wasn't lost on journalists, who have focused on the palace intrigue of the Trump White House for months. Spicer, according to reports, was not happy about the appointment of Scaramucci, an outside-the-beltway pick, and quit because of it.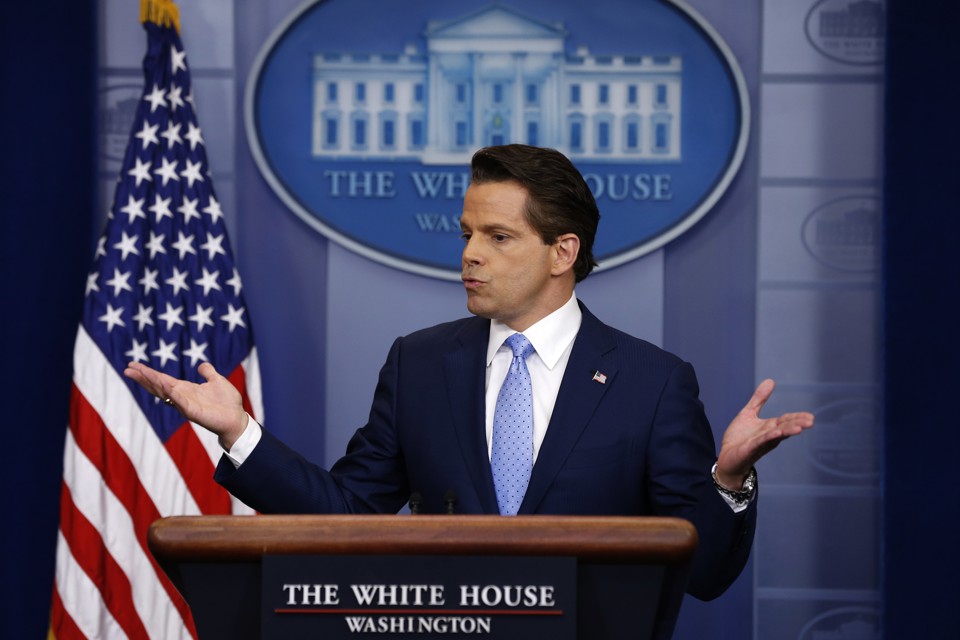 In his First Appearance, and the first White House press briefing in about three weeks, the newly minted Communications Director was direct but eminently likable. In the discussion with reporters, he announced that Sarah Huckabee Sanders would be replacing Spicer as Press Secretary.
The Tabloid Journalism surrounding the White House made Friday's personnel shakeup into international news. Despite statements to the contrary, there are reports that Scaramucci is aligned against both White House Chief of Staff Reince Priebus and Chief Strategist Steve Bannon. Speculation is rampant that Scaramucci may be angling to take Reince Priebus' job. At this point, however, it looks like Scaramucci is setting about rebuilding the President's messaging apparatus.
Sean Spicer will be departing in August.
What's POTUS up to?
The President will have an afternoon photo-op with "victims of Obamacare" (no doubt designed to push the Senate closer to action on the reform bill being considered this week) before travelling to Beaver, West Virginia for the "National Scouts Jamboree" where he'll give a speech to the Boy Scouts.
What We're Reading
Maryland Reporter: Rascovar: Democrats crowd governor's race
Bloomberg: Maduro Says Vote On as Venezuela Opposition Calls 48-Hour Strike
Foreign Affairs: Is Slow Productivity Growth Here to Stay?
Washington Examiner: Profile of Freedom Caucus Chair Mark Meadows
New York Post Opinion: Now the Speech Police are Going After Small Talk